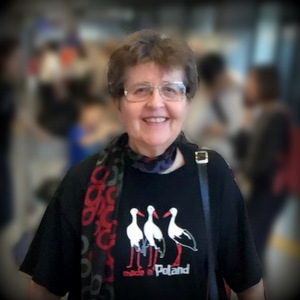 Our deepest sympathy
to the family
of
Wanda Wosik
who passed away
on
September 1, 2023.
She will be missed
by her family, friends
and
the Polish community
in Houston.
Wanda Zagozdzon-Wosik, aged 76, a beloved wife, mother, grandmother, and friend to many, passed away on September 1, 2023, after a heroic and intense battle with brain cancer. Born in Warsaw, Poland, she graduated from Warsaw University of Technology and began her career at the Institute of Technology in Warsaw. She later continued her professional life in Houston, Texas, as a professor of Electrical Engineering at the University of Houston. Upon her retirement from the University of Houston at the end of 2022, she was honored with the title of Professor Emeritus. Wanda's curiosity and passion for learning, research, and working with students remained unwavering throughout her career. She left a lasting impression on everyone she met, living by her principles and adding charm to the lives of her family and friends with her unique sense of humor and intelligence.
She is survived by her devoted husband, Jarek Wosik; her loving son, Jedrek; her admired sister, Hanna Milczarek; and her adored grandson, Henry.
A funeral service to celebrate Wanda's life will be held on Saturday, September 23rd, 2023 at 11 a.m. at Our Lady of Częstochowa Church in Houston with a reception immediately following the service. It will be held only a few blocks from the church at 1220 Blalock Rd #300, Houston, TX 77055 and everybody is invited.

Wanda Wosik had hoped to create an Endowed Scholarship Fund supporting students of the University of Houston Cullen College of Engineering. In lieu of flowers, please consider making a gift to the Wanda Wosik Memorial Fund in Wanda's Memory.