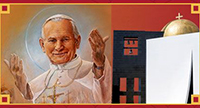 The St. John Paul II Institute welcomes special guest Fr. Kania Witold, best known for his work around bioethics, ecology, and divine mercy.  Fr. Witold will share his insight into why St. John Paul II is a gift to Poland.
"St. John Paul II's Gift to Poland" is the second in our 2023 St. John Paul II Lecture Series.
WHEN: Thursday, April 13, 7:00-9:00 PM
WHERE: Black Lab, University of St. Thomas 4100 Montrose, Houston, TX 77006
Free and open to public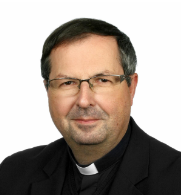 About Fr. Kania Witold
Witold Kania is a priest from the diocese of Katowice in Upper Silesia, Poland, presently serving the Parish of the Holy Cross in Tychy, Poland. He is the Archdiocesan Chaplain of the Knights of Columbus, Archdiocese of Katowice, Poland, and Chaplain to the Missionaries of Charity, Katowice, Poland.

For many years, Fr Witold has visited Houston and served parishioners at St. Vincent de Paul Parish. Fr. Witold is a visiting professor at the University of St Thomas in Houston, Texas, where he has given numerous lectures and has led the UST study abroad in Poland for the past three years. He holds a Ph.D. from the Ecclesiastical Faculty of Philosophy, University of Navarra, Spain. He also earned a Licentiate in Theology, from the Academy of Catholic Theology, Warsaw, Poland, and a Master's degree in Theology from the Papal Academy of Theology, Cracow, Poland. He has special expertise in bioethics and ecology.
---
For information, email sjpiiprograms@stthom.edu or call 713-525-2112 (M-F 9am-3pm)
---
This event is made possible in part by a generous grant from the Polish Consulate General in Houston.