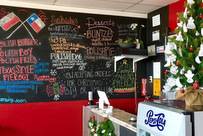 After 6 years of serving pierogi, cabbage rolls, and other favorite Polish dishes, PIEROGI QUEEN Restaurant closed its doors at both locations.
Opened on May 25, 2016, the restaurant was quickly placed on the Houston restaurant map, being recognized with several accolades. Houston Chronicle named it #9 of 10 best restaurants to open in 2016, and in 2017 – it made the Top 100 Houston Restaurants list!
The Ribbon Cutting ceremony took place on April 4, 2017, after the restaurant joined the League City Chamber of Commerce. In 2021, despite the difficult time of Pandemics, the new location opened in Railway Heights, Houston
The restaurant was enthusiastically welcomed:
https://communityimpact.com/news/2019/10/11/pierogi-queen-polish-immigrants-serve-up-authentic-european-delicacies/
Many interviews: http://voyagehouston.com/interview/meet-eva-sek-pierogi-queen-south/
The last day had its moment when someone from Ewa's hometown in Poland walked in.
https://www.chron.com/food/article/pierogi-queen-league-city-last-day-coincidence-17193111.php
Restaurant closing was announced in all local publications
https://houston.eater.com/2022/4/12/23022051/houston-polish-restaurant-pierogi-queen-closing-may
"We were trying so hard for so long," the post said. "Sadly, all our achievements did not help us enough to keep running any longer. We are grateful for all we got, but at this point with current food prices and not [being] able to find reliable help we came to the decision."