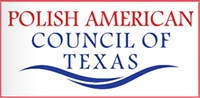 American Council for Polish Culture Annual Convention
will be held in
San Antonio and Panna Maria
on July 26 – 29, 2022
Visit pactx.org for more info
---
A word from PACT President, Dr. Jim Mazurkiewicz:
Dear PACT members,
I am very pleased to share with you that The American Council for Polish Culture (ACPC) has chosen to hold its 2022 Convention in San Antonio and Panna Maria, July 26-29, 2022.
The ACPC is a national non-profit, charitable, cultural, and educational organization that serves as a network and body of national leadership among affiliated Polish-American cultural organizations throughout the United States. There are currently 35 member organizations in 20 states, including our own Austin Polish Society and Polish Heritage Center here in Texas!
I ask you all to consider sponsoring an ad in the 2022 Texas Convention Souvenir Program Book, a full-color magazine-quality souvenir book that includes messages from across Polonia. Your message can be congratulatory, promotional, thematic or even be a link to forthcoming events or projects your group is sponsoring. Note the 20% discount offered to PACT members. Those PACT organizations that participate can also have their logo appear on the ACPC website for the next year!
The Program Book will feature an official welcome by Bishop Emeritus John W. Yanta and a multi-page Texas Polonia history feature that I have been asked to provide. Consul General Rusiecki is a keynote speaker. As you know, we have a great story to tell. This is an awesome opportunity for us to showcase Texas.