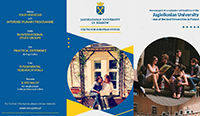 On behalf of the Centre for European Studies at the Jagiellonian University in Krakow I would like to present you our BA in European Studies: European Politics and Society in a Global Perspective Programme. We are looking for bright and motivated students interested in international relations and european studies.
The Centre for European Studies (CES) is a part of the oldest Polish University,Jagiellonian University in Krakow, established in 1364. CES offers English-taught programmes on undergraduate and graduate levels for students from all around the world.
CES BA Programme is a 3-years interdisciplinary programme. It is designed using our best assets to equip students core knowledge of European politics, culture and society, whilst emphasizing Europe's role in a wider global framework. Students of the Programme learn foreign language within the course of studies as well as they may conduct an internship to gain practical experience.
Download Programme brochure.
I would be very grateful for sharing this with those who might be interested in this possibility.
Thank you in advance for your collaboration and will be glad to answer any questions you might have or provide further information. Please do not hesitate to contact me directly at anna.melnyk@uj.edu.pl.
With kind regards,
Anna Melnyk
Communications and Promotions Coordinator
Centre for European Studies
Jagiellonian University
Garbarska 7A
31-131 Krakow, PL
tel: +48 12 429 6207
fax: +48 12 429 6195
www. ces. uj.edu.pl