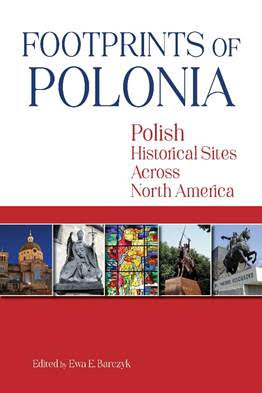 Virtual Program to introduce the new book "Footprints of Polonia in North America"
presented by Polish Heritage Center, Panna Maria, TX, Presented by Edyta Barczyk.
Thursday, September 21, 2023 at 6:00 p.m. (CDT)
The recently published book titled "Footprints of Polonia: Polish Historical Sites in North America" documents hundreds of important sites across the continent, from majestic churches to small roadside chapels, from immense memorials commemorating the Katyn massacre to small plaques honoring striking Polish workers, all highlighting the innumerable contributions of Polish immigrants and their descendants on communities across North America. The Polish American Historical Association, under the guidance and editorship of Ewa Barczyk, developed this guide with the goal of highlighting the important ways Polish immigrants contributed to history, politics, arts and society from Canada, through the United States down to the Caribbean and Central America. The book serves not only as a wonderful guidebook but also a resource to learn more about Polonia and deepen pride in Polish American contributions.
link to ZOOM meeting: https://us06web.zoom.us/j/82432940385?pwd=dGcyZzExMk9sZGhxYjZWNXIwNEo0dz09