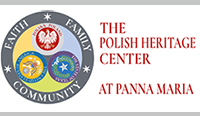 The Polish Heritage Center at Pann Maria is seeking an Executive Director.
Reports to: Board of Directors Polish Heritage Center
Qualifications:
Bachelor's Degree in Business Administration, Museum Studies, Public Administration, or related field
Possess a deep knowledge of the fundamentals of philanthropy; be comfortable in asking for major/monetary gifts
from both donors and corporations; identifying and cultivating new and potential donors and sponsors; identifying
grant opportunities and writing grants; experience with developing and implementing a fundraising strategy
Proven ability in developing and managing a budget, monitoring ongoing financial performance, and demonstrated
success in fundraising
A minimum of five years experience as a leader or manager within a public museum or a non-profit organization
Demonstrated analytical and planning skills including experience in managing staff, volunteers, and dealing with
human resources and related issues, including hiring monitoring, evaluating, and terminating employees.
Experience in oversight of facility and technology management
Possess exception and written and verbal communication skills that include public speaking and presentations
Proficient in the use of Microsoft Office Suite products, including databases and spreadsheet applications in a Windows environment
Knowledge and appreciation of the history of the Polish settlement in Texas and of Poland.
Responsibilities:
Develops a vision to move the PHC forward while preserving the traditional qualities to preserve the history of the First Permanent Polish Settlement in the Nation and Polish history.
Oversees all PHC operations including: budgeting, budget management, income generation, business operations, reporting, educational programing, events, exhibits, library, archives, genealogy lab, marketing, retail and physical plant operations.
Develops short-term and long-term Strategic and Business Plans.
Responsible for the implementation of the Board approved strategic, business plans and board policy.
Responsible for increasing the visibility of the PHC through the development and implementation of educational programs both on-site and virtual.
Ensures any developed curriculum complies with TEA guidelines.
Ensures that all programs, workshops, seminars, lectures and movies, special events and celebrations are in agreement with the PHC's mission and values.
Supervises, manages, and evaluates all PHC staff and volunteers.
Maintains a current heritage center operational knowledge through business networks, related workshops/conferences, and professional publications.
Responsible for providing local, regional, and national marketing and public awareness of the mission and programming of the PHC.
Ensures proper physical plant maintenance and operation.
Represents the Center/Board, serving as the public face of the organization in all settings.

If you are interested in this position, please send your resume to Al Notzon, Board President, and Chair
Chairman@polishheritagecentertx.org
Mailing Address: P.O. Box 25, Panna Maria, Texas 78144
Please refer to the PHC website for the full job description