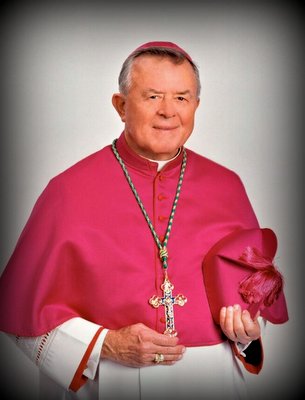 Bishop John Walter Yanta passed away
on August 8, 2022 at the age of 90.
A South Texas native, he was born in 1931 and grew up in the family farm in Runge. Yanta was ordained a priest in 1956, serving in various parishes and in many capacities, several of these related to youth organizations. Very proud of his Polish heritage, Yanta was a founding member and first national president of the Polish American Priests Association; he also was a member of many other Polish organizations.
He saw his dream of a world-class center honoring the heritage and contributions of Polish immigrants to Texas and the United States come to fruition last October, with the opening of the Polish Heritage Center at Panna Maria — the oldest Polish settlement in the United States. It was in the church in Panna Maria that Yanta was ordained auxiliary bishop of the San Antonio archdiocese in 1994.
According to the message from the Roman Catholic Diocese of Amarillo, Bishop Yanta served the diocese from 1997 to 2008.
Officials wrote that funeral arrangements are pending at this time. Once information becomes public, a follow-up message will be released.