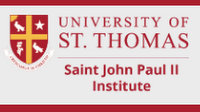 You are invited to participate in our Program of Polish Studies at the UST. This is a unique opportunity for anybody interested in Polish culture, history, language, and literature. All classes are taught in English by professors with Polish roots and many years of experience in their fields. The Polish Language class teaches Polish from the beginning.
The classes are open for anybody 16 years old and older who can take it as an audit. Each Polish class takes about 45 hours per semester. The cost is $300 per semester for students below 60 years of age and $150 for students 60 years old and older. However, we kindly ask to donate another $150 (total $300) to support our program. The tuition is payable by check to the St. John Paul II Institute by the end of first week of classes, August 26 by the check mailed to the address: 1211 Colquitt St., Houston, TX 77006.
If interested in taking any of these classes
contact Piotr Przybylski by August 15, 2022 by emailing przybyp@stthom.edu
Class Schedule for Fall 2022
1) PLSH 3310: Poland in the XX Century by Dr. Paul Radzilowski
Fall semester 2022, Thursdays 2:10-4:45 pm Central Time
First Class: August 25, 2022
Course Description:
The course explores the history of 20th Century Poland, including such topics as nationalism, reestablishment of independence, Poland under totalitarian systems, and the Solidarity Era and return to freer politics and society. Politics will receive considerable attention, as well as the interplay of cultural, economic, social, and religious history. Poland's past will be understood in the context of European and world affairs since the 19th century.
---
2) PLSH 3320: Polish Texans (The History of Texas Polonia) by Dr. Jim Mazurkiewicz
Fall semester 2022, Mondays and Wednesdays 10:30-11:45 am Central Time
First Class: August 22, 2022
Course Description:
Selected topics to study the past 200 years of history concerning the Polish immigration to Texas, reasons for their departure and their contributions to Texas/US as it relates to economics, religion, politics, and culture.
---
3) PLSH 3335: Contemporary Polish Writers: Writing as a Gesture of Freedom by Dr. Jolanta Wrobel-Best
Fall semester 2022, Tuesdays and Thursdays 11:00-12:15 pm Central Time
First Class: August 23, 2022
Course Description:
Using masterpieces of Polish contemporary literature, the course is designed to introduce essential and unknown topics of Polish culture, history, and society for English language readers. Works by Polish writers not only possess high aesthetic values, but they should be viewed as artistic records revealing the major upheavals of Polish history such as Poland's Three Partitions (1772, 1793, and 1795), prolonged lack of independence (1795-1918), Communist regime (1945-1989), and the latest democratic governance. Applying interdisciplinary tools of literature, history, art, and philosophy to readings, students will decipher a manifold depiction of Polish culture and society.
---
4) PLSH 1331: Elementary Polish I by Małgorzata Bujak
Fall semester 2022, Mondays and Wednesdays 12:10-1:25 pm Central Time
First Class: August 22, 2022
Course Description:
Polish language for beginners.
---
Dr. Piotr Przybylski
Assistant Director for Polish Studies
Saint John Paul II Institute
University of St. Thomas-Houston