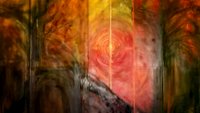 In The Stream of Time
An Exhibition of Paintings and Prints By Romuald Oramus
The University of St. Thomas presents the works of renowned Polish artist Romuald Oramus. The exhibition is sponsored by the St. John Paul II Institute and the Polish Consulate in Houston. The artist will be present on May 19-22.
Oramus' show titled "In the Stream of Time" features original paintings and prints from his corresponding cycles known as "Cathedral" and "Proust's Cathedral."
WHEN
Thursday and Friday, May 19, 20. 3:00pm-7:30 pm
Saturday, May 21, 22, Noon-4:00 pm (Artist present)
Sunday, May 21, Noon-4:00 pm
Thursday and Friday, May 26, 27. 3:00pm-7:30 pm
Saturday, May 28. Noon-4:00 pm
WHERE Link-Lee Mansion, 3800 Montrose Boulevard, Houston, Texas 77006
Admission; Free
About the artist: UST press release:
https://news.stthom.edu/renowned-artist-romuald-oramus-to-exhibit-in-the-stream-of-time-at-university-of-st-thomas/
Video from the exhibition at Collegium Maius at the Jagiellonian University in Krakow: