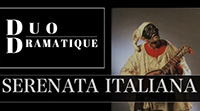 Houston's renowned violin/piano Duo Dramatique, Dominika Dancewicz, violin & Donald Doucet, piano, present their brand new program celebrating the music of Italy.
Saturday, January 18, 2020, 7:30 PM – 9:00 PM
Cullen Hall At St Thomas University
4001 Mt. Vernon St. Houston, TX 77006, Houston, Texas 77006
From Antonio Vivaldi's virtuosic Dresden Sonata, Igor Stravinsky's "Italian Suite" based on G.P. Pergolesi's excellent tunes, to the glorious beauty of Violin Sonata by Ottorino Respighi, and heart-wrenching thèmes from the film music by Ennio Morricone – this concert will be an unforgettable journey through the history and beauty of Italy.
Join us for this traditionally FREE concert (donations accepted) at Cullen Hall, at the beautiful campus of the University of St. Thomas!