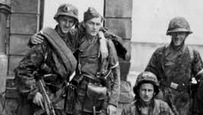 The First to Fight display, which commemorates the 80th anniversary of the Battle of Poland and the start of World War II, is opened at the University of Houston-Downtown. Exhibit location: Milam And Travis Conference Rooms.
The College of Humanities and Social Sciences thanks Consul General Robert Rusiecki and the Consulate General of the Republic of Poland in Houston for selecting UHD as one of the sites to host this commemoration of this important moment in world history. Support for this program is provided by the William Brigman Endowment.
The panel display will remain open to the public in the Welcome Center foyer of the Girard Street building, until December 13, 2019.