You are invited to one single biggest event for Duo Dramatique in September: "Three Dimensions of Emotions" recital.
WHEN Saturday, September 24, 2022, 7.30PM
WHERE University of St Thomas, Houston, Cullen Hall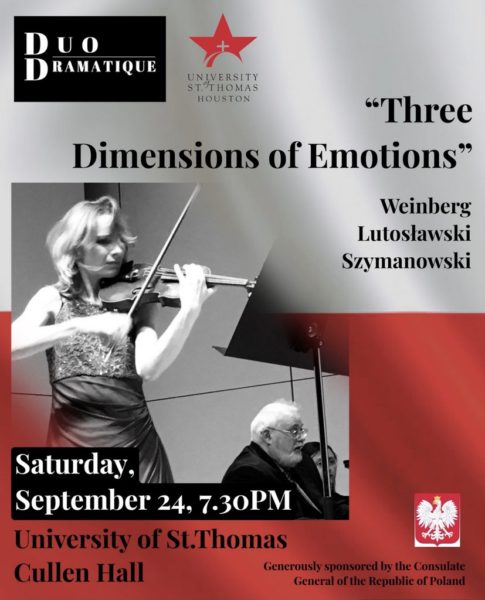 Join us for an exciting journey through rarely heard music by world-renowned Polish composers: Mieczyslaw Weinberg, Witold Lutoslawski and Karol Szymanowski.
Even though of stellar quality and expression, their music is still severely underperformed in the United States. We want to open your minds and hearts to it.
Described as "some of the most compelling music of the 20th Century", Weinberg's work is eerie and somewhat akin to that of Shostakovich. We will present his "Sonatina" together with the neck-breaking virtuosic and architecturally complex "Partita" by Lutoslawski, and the expressionist and ultra romantic Violin Sonata by Szymanowski.
If this concert is to define our Duo, it will definitely do justice to the "Dramatique" part!
This concert is generously underwritten by the Consulate General of the Republic of Poland. There will be a small photo exhibition in Cullen Hall lobby for you to enjoy and reflect upon.
Please, stay with us to mingle and talk, connect with us and ask any questions. You will have a chance to buy one of Duo Dramatique's CDs, we will also accept donations supporting our future projects.
"Three Dimensions of Emotions" is FREE and open to ALL. Bring your families and friends.