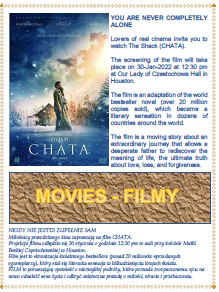 Lovers of real cinema invite you to watch The Shack (CHATA).
WHEN January 30, 2022, 12:30 pm
WHERE Our Lady of Czestochowa Hall, 1731 Blalock Road, Houston, TX
The film is an adaptation of the book "The Shack" by William P. Young world bestseller novel (over 20 million copies sold), which became a literary sensation in dozens of countries around the world.
The film is a moving story about an extraordinary journey that allows a desperate father to rediscover the meaning of life, the ultimate truth about love, loss, and forgiveness.