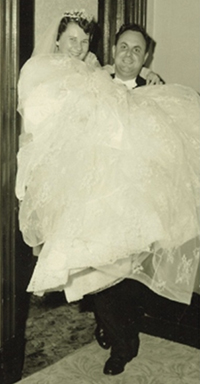 We are sharing a Christmas gift idea: a book about Polish emigrants, Estelle & Ziggy written by Adam DeRose.
Born in Poland in 1925, Ziggy had to deal with hardships at an early age. His mother passed away when he was 2 years old. Years later, he had to face a Nazi controlled Poland. Join Ziggy and follow him on his real life experience through World War II and finally making his way to America. Once in the United States, he eventually found his true love, Estelle.
For years, Grandpa Ziggy told me he could write a book about his life. However, at the age of 90 years old, he never started his book. Through a blend of recorded interviews, oral recollections, some of his writing, and emails his story was finally documented.
Adam is originally from South Central Grand Island, New York. After graduating from St. Joseph's Collegiate Institute, he attended Daemen College, where he earned a BS in Art in 2007. Adam furthered his education, receiving an Associate's Degree in Automotive Technology from Monroe Community College in 2011. Adam currently lives in Rochester, New York with his wife Shannon and two young kids.
Estelle & Ziggy is published by Create Space
ISBN-13: 978-0692751176 (Custom Universal)
ISBN-10: 0692751173
Order book on Amazon
The book is about my Polish grandparents and their major impact on my life.  The book starts off with Grandpa Ziggy recalling his early childhood: growing up in a Pre-WWII Poland. As a teenager, the Germans invaded his home.  Shortly thereafter, he was "drafted" into the German Navy.  Not wanting to fight for the Germans, he eventually defected and joined the Allies. After the War, he spent years in England and Scotland, before moving to America.  Once in America, he found his true love, Estelle. 
— Adam DeRose