Congratulations to newlywed Balbina Mrozkiewicz and Luca Radossevich who married on June 10,  2016 in Italy, at the historic city of Trani (where Luca spend most of his summers as a child), in the Basilica of the 11th century, Cathedral di Santa Maria Assunta.
Family and friends arrived from different parts of the world. The conversations were hold in many languages: English, Polish, Spanish, Italian, German, and Portuguese.
The wedding ceremony was very emotive, part of the liturgy was in Polish and all the ceremony was translated from the Italian language into Polish.
After the ceremony, guests were were taken in buses to celebrate to an exceptionally beautiful place, Masseria Barbera in Minervino Murge. The party lasted till late night. "Abbey Road il Tributo ai Beatles" played live music from the beginning till the end. Pugliese food and great wine was at the highest level!
All the best for a young loving couple, who lives in Turin!
Family and friends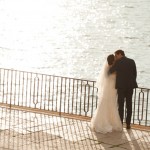 Serdeczne gratulacje dla Balbiny Mrożkiewicz i Luca Radossevich, którzy 10 tego czerwca wzięli ślub we Włoszech, w nadmorskim, zabytkowym mieście Trani (gdzie Luca spędził większość swoich dziecięcych letnich wakacji), w przepięknej katedrze z XI wieku – La Basilica Cattedrale di Santa Maria Assunta.
Rodzina i goście zjechali się z rożnych stron świata, rozmawiano w wielu językach: angielskim, polskim, hiszpańskim, włoskim, niemieckim, portugalskim!
Ceremonia zaślubin w kościele była niezwykle wzruszająca, a fragmenty uroczystości były w języku polskim, program ceremonii został przetłumaczony z języka włoskiego na język polski.
Po ceremonii goście byli zaproszeni na przyjęcie weselne do wyjątkowo pięknego miejsca, Masseria Barbera w Minervino Murge, na które pojechali podstawionymi autobusami. Zabawa trwała do pozna w nocy, a zespól "The Abbey Road, il tributo ai Beatles" grał muzyka na żywo od początku do końca. Potrawy z Puglii i świetne wino były na najwyższym poziomie!
Wszystkiego najlepszego dla młodej, kochającej pary, która zamieszkała w Turynie!!!
Rodzice i przyjaciele