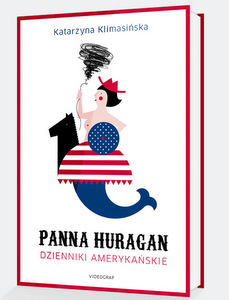 Polish journalist Kasia Klimasinska, a financial reporter for Bloomberg and Bloomberg Businessweek who was based in Houston for two years, has just published a novel based on her experience in Texas, "Panna Huragan."
The book, a light, funny and witty tale about Polish immigrant's career in the U.S., her trips across the country and interactions with various communities, from Alaskan Eskimos to Houston rig workers, is available in Polish in bookstores, online stores (including Merlin and Empik), and as an e-book.
Buy in Polish Bookstore
Polecam moją książkę, "Pannę Huragan" na dojazdy w metrze, na wieczór w ciepłym swetrze, na odpoczynek od roboty, jako pociechę na różne życiowe kłopoty. If you speak Polish, you might want to check out my novel "Panna Huragan" – a look at the US through Polish eyes.
You can also like it on Facebook at: https://www.facebook.com/pages/Panna-Huragan/465167183599591