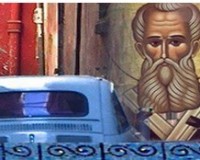 Centre for Thought of John Paul II (Warsaw) in collaboration with International Academy of Philosophy – Instituto de Filosofía "Edith Stein" (Granada), 
International Center for the Study of the Christian Orient (Granada), and 
International School of the Sacromonte Abbey (Granada)
invite you to
International Summer School in Catholic Studies
 GRANADA,   8 September 2013
The Granada Summer School in Catholic Studies is a journey to the Source of Christianity. We invite students and young scholars from both East and West to join us in this journey. We will explore the imagination and the sciences, issues of postmodernity and modernity in the light of tradition, seeing to discover thereby the wisdom of the Church Fathers for our own cultural and historical contexts. Our goal is to encounter the contemporary presence of Christ.
Program:
Seminar 1. Aaron Riches 
Christology in the first millennium of the Church
Seminar 2: Marta Kwaśnicka
The waves of religious revival. Polish and Russian messianism
Seminar 3: Artur Mrówczynski – Van Allen and Mátyás Szalay
The children of Agar. Monotheism, Fantasy and Postmodernity
Seminar 4. Michał Łuczewski
Social sciences and theology
Call for applications
Please send your CV and a short letter of intent to lofiara@centrumjp2.pl by 30th June 2013.
Successful candidates will be informed by 10th July.
Details at:
http://www.youtube.com/watch?v=Wzn-IEMDpKw